In the book "The Legends of Tono", you can find tales of
Mayoiga
.
I feel fabulously interested in "
Mayoiga
".
Those legends were heard around at this Mt. Shiromin, east side of
Tatsumaru mountain pass
in previous article.
A house deep in the mountain sometimes called "Mayoiga".
I posted a tale of
Mayoiga
in English and Japanse below.
I hope you will enjoy to read.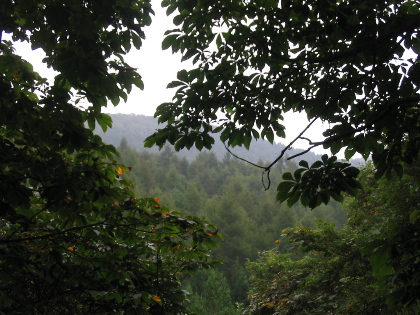 63.Mr. Miura of Oguni is the richest man in the village.
小国(をぐに)の三浦某といふは村一番の金持なり。
Two or three generations earlier, the household was poor and the master's wife rather stupid.
今より二、三代前の主人、未だ家は貧しくして、妻は少しく魯鈍(ろどん)なりき。
One day the wife went gathering butterbur along the small stream that flowed in front of the gate.
この妻ある日門の前を流るる小さき川に沿ひて蕗(ふき)を採りに入りしに、
Because there were not many good plants there, she gradually went back deeper into the valley.
よき物少なければしだいに谷奥深く登りたり。
All of a sudden she looked up, and there was a house with a fine black gate.
さてふと見れば立派なる黒き門の家あり。
She entered the gate hesitantly.
いぶかしけれど門の中に入りて見るに、
She saw a large garden with red and white flowers blooming and many hens running about.
大なる庭にて紅白の花一面に咲き鶏多く遊べり。
In the back of the garden there was a shed with many cows and a stable with many horses. There were no people anywhere.
牛小屋ありて牛多くをり、馬舎ありて馬多くをれども、いつかうに人はをらず。

Finally she entered the house through the main entrance.
つひに玄関より上りたるに、
In the adjoining room she found many red and black serving trays and bowls.
その次の間には朱と黒との膳椀をあまた取り出したり。
A charcoal brazier and a tea kettle, with the water boiling briskly, could be seen in the inner room. Nevertheless, there was not a trace of anyone.
奥の座敷には火鉢ありて鉄瓶(てつびん)の湯のたぎれるを見たり。されどつひに人影はなければ、
Suddenly she became frightened. Thinking that this might be the home of a mountain man she ran off and returned home. もしや山男の家ではないかと急に恐ろしくなり、掛けだして家に帰りたり。
She told people about what she had seen, but no one would believe it.
この事を人に語れども実(まこと)と思ふ者もなかりしが、

Again, another day while she was washing things at the bank of the stream in front of the gate, a red bowl came floating down from up-stream.
 またある日わが家のカドに出でて物を洗ひてありしに、川上より赤き椀一つ流れて来たり。
Because it was so beautiful she lifted it out of the water.
あまり美しければ拾ひ上げたれど、
Since she thought she would be scolded if she used this unclean bowl as tableware she put into the grain box and used it to measure rice.
これを食器に用ゐたらば汚しと人に叱られんかと思ひ、ケセネギツの中に置きてケセネを量る器となしたり。
As soon as she began to measure grain with this bowl, the grain never decrease in volume.
しかるにこの器にて量り始めてより、いつまで経ちてもケセネ尽きず。
The family thought this phenomenon strange, and when they asked her the reason, she told them for the first time how she picked the bowl out of the stream.
家の者もこれを怪しみて女に問ひたるとき、始めて川より拾い上げし由をば語りぬ。
From then on the household had good fortune and it became the Miura household of today.
この家はこれより幸福に向かひ、つひに今の三浦家となれり。

In Tono a strange house in the mountain is called a mayoi-ga (a house hound when one loses his way).  
遠野にては山中の不思議なる家をマヨヒガといふ。
Anyone who finds a mayoi-ga is to take anything he likes from among the household objects and domestic animals.
マヨヒガに行き当たりたる者は、必ずその家の内の什器家畜何にてもあれ持ち出でて来るべきものなり。
The house is shown to the person only in order to give him fortune.
その人に授けんがためにかかる家をば見するなり。

It is believe that because the woman was not greedy and did not teal anything from the house, the bowl came floating to her of its own accord.
女が無欲にて何物をも盗み来ざりしがゆゑに、この椀みづから流れ来たりしなるべしといへり。
Tale #63, from "Tono Monogatari (The Legends of Tono)".
What a mysterious and interesting tale!